GOURRES OF WHEAT SARRACENO WITH VEGETABLES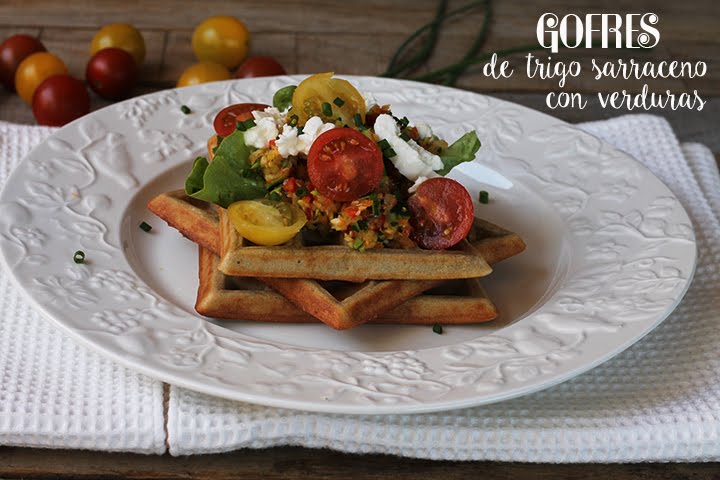 Today it's salty waffles. It is a recipe from the magazine thermomix No. 99 of January. They are delicious, I advise you that as you go out of the waffle maker you will put them on a plate and reserve warm ones while we make the coverage. Once everything is ready to serve right away and the result is wonderful. Those who did not like me did not like me that much, but my niece ate them anyway. These waffles together with the cover were divine.
INGREDIENTS:
* For the dough:
300 g milk
30 g soft butter
30 g of soft butter li>
2 eggs
200 g of buckwheat flour
50 g of cornstarch
1 sachet of instant granulated baker's yeast
1 teaspoon salt
Oil to grease
* For coverage:
200 g zucchini
50 g of onion
100 g of red pepper in cubes
1 pinch of salt
2 pinches of ground pepper
10 g of olive oil
200 g of fresh goat cheese (I did not have, I put fresh cheese)
50 g of arugula (I did not have, I put lettuce)
16 red and yellow cherry tomatoes
A few sprigs of chives
PREPARATION:
Make the dough:
Put in the glass milk and butter and heat 2 minutes, 37º, speed 2.
Add the eggs, the buckwheat flour, the cornstarch, the yeast and the Salt. Mix 20 seconds, speed 4. Let it rest inside the glass for an hour or until it doubles its volume. When the mix time has elapsed, 3 seconds, speed 4.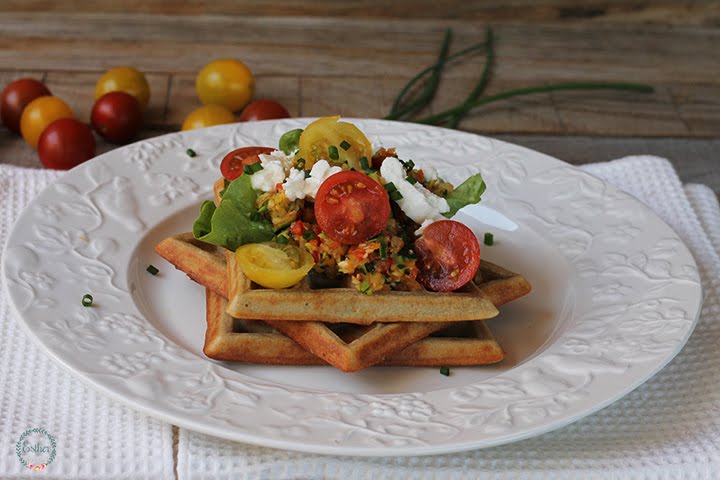 heat the waffle maker and brown it with oil. Pour a slice of the dough and cook for 5 to 6 minutes, until golden brown and crunchy. Repeat the process with the rest of the dough until finished. I got 8 waffles.
Make the coverage:
Put the zucchini in the glass and chop 2 seconds, speed 5. Pour in the basket and reserve. Put the onion, pepper, salt, pepper and oil in the glass and chop 5 seconds, speed 5. Insert the basket with the zucchini and program 6 minutes, varoma, speed 1.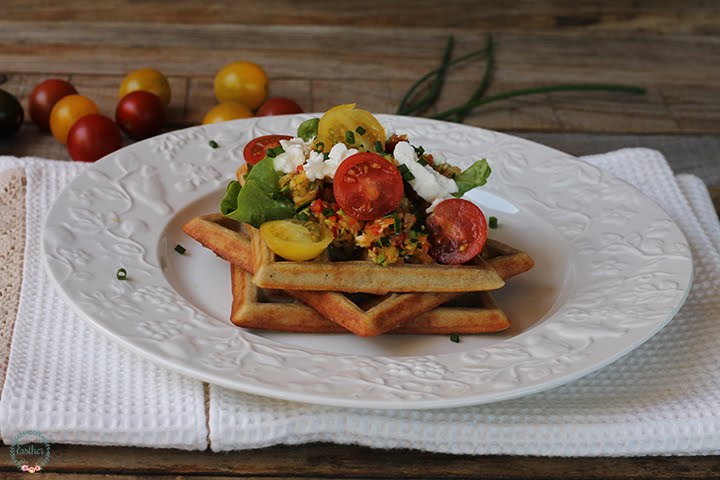 Using the notch of the spatula, remove the basket and place it on a bowl. Pour the contents of the glass into the basket over the zucchini, mix and let drain. Serve waffles topped with goat cheese or shredded fresh cheese, arugula, cherry tomatoes, stir fry and chives.