BIZCOCHO PLANCHA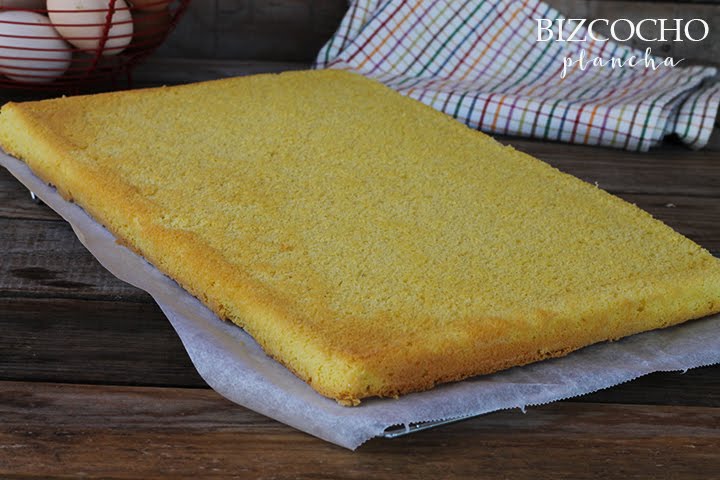 This cake plate is the one I use in cakes, gypsy arms, for bases. If the cake is square I cut it in two or three pieces, to go putting layers. If it is for a short base, I freeze it again, because two bases come out. It is a cake that I use a lot in baking. If you make a gypsy arm as soon as you leave the oven, roll it between two baking papers and allow it to cool completely. IMPORTANT! When it begins to turn slightly golden, it is removed from the oven and poured over another baking paper. Remove the paper in which you baked it and put another clean and roll quickly so it does not break and let cool, this is the question has no more.
INGREDIENTS:
5 eggs li>
200 gr of sugar
200 gr flour
1 pinch of salt
Vanilla aroma, lemon zest (to flavor, this is optional)
PREPARATION:
Put whole eggs and sugar in the electric mixer. Beat until the mixture whitens and has doubled its initial volume. Now if you want to aromatize the sponge cake incorporates 1 teaspoon of vanilla aroma or lemon zest (this is optional). Do not tire of beating, the more shakes are much better.
Sift the flour along with the salt. Add the flour in tablespoons to the egg mixture and with a spatula, stir it from top to bottom and with enveloping and soft movements, so that the dough is lowered as little as possible.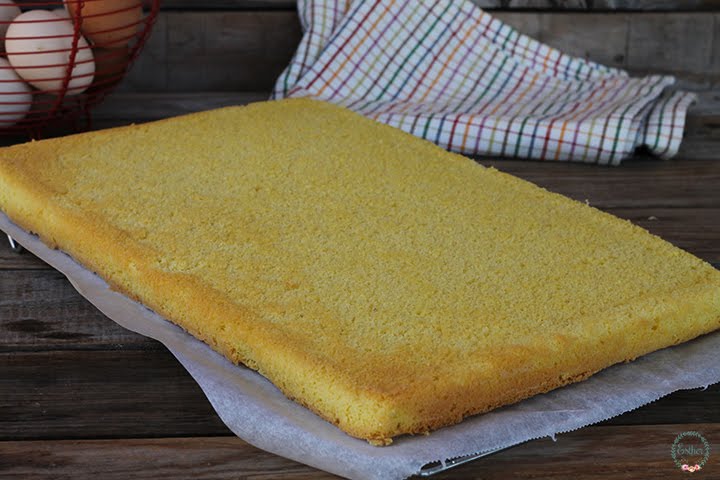 Preheat the oven to 180º.
Line a baking sheet with greaseproof paper and paint it with a little butter. Pour the dough into the prepared tray and spread it out with a spatula all the same. Bake the sponge cake for 10-12 minutes. When this, remove it to the work table and turn it over on a clean sulfurized paper. Now depending on what you want, you will do one thing or the other. This prepare it for the base of a cake and leave it more chubby. If it is for a gypsy arm I advise you to put the dough in a larger tray so that the plate is a little thinner, and just when leaving the oven you turn it over the prepared baking paper. Roll it on itself and leave it on a rack until it is completely cold.
Notes: This is the recipe that I always use for my base biscuits and for the gypsy arm. I do the following, for each egg I put 40 grams of sugar and 40 grams of flour. For example: 5 eggs 200 gr of flour and sugar. You can also put 30 grams for each egg, for my taste it has more consistency with 40 grams per egg. The best thing about these things is to try to find out how you like it.
You can aromatize it, of course, it is aromatic with vanilla.
Beat the eggs well, how much more spongy shake you will have the cake.
When you put it in the oven, do not lose sight of it. It has to be golden above and no more. If you do a lot, then when you roll it would break