Grilled aubergines 1001 nights with sesame sauce, pomegranate and pistachios
W How to make naughty aubergines turn into a culinary fairy tale of 1001 Nights? Take a cheery glowing grill, a spot on the grill, a cup of herb quark with a few spices, a handful of pomegranate seeds and a few pistachios. Schwupps - 15 minutes later, the best thing is on the table, which can be conjured up from an eggplant.
Whether as an accompaniment to grilled meat or herbal alternatives, as an independent vegetarian dish with crispy flatbread or decorative part on the buffet - the grilled aubergines are cooked very fast and bring with them a large portion of optical and flavorful WOW factor. And yes: It just can not hide at this point - I'm still in Israel fever. The five days in Tel Aviv, Jerusalem, Bethlehem, Jericho and Qumran really had it all. The incredibly contradictory country, the lively people and of course the fantastic food of the region have really impressed me. Here, here, here and here or here you will find more recipes and travel reports, if you want to learn more. So, but now back to the feed:
Simply for home: oriental flair with normal ingredients from the supermarket
So that you really uncomplicated at home I've adapted the recipe for ingredients from a normal, well-stocked supermarket. The original oriental, often very garlic-laden and rich Tahina sauce is replaced by a lighter fixed variant with aromatic herbal quark Instead of the popular in oriental cuisine and hard to get in Germany orange blossom water fresh orange juice is used. While the aubergines cook on the grill and develop delicious roasted aromas, a few ingredients make a creamy, aromatic sauce with a great oriental flair in one minute.
If the aubergines are nicely browned on the outside and soft on the inside, they will open arranged on a plate, drizzled with the sauce and garnished with pomegranate seeds and pistachios. Finished. The soft, warm aubergines contrast with the cool sauce, the crunchy pomegranate seeds and pistachios - WOW! That's how 1001 nights are. Sprinkle some more green herbs like parsley or mint on top - I'm sure you'll love it!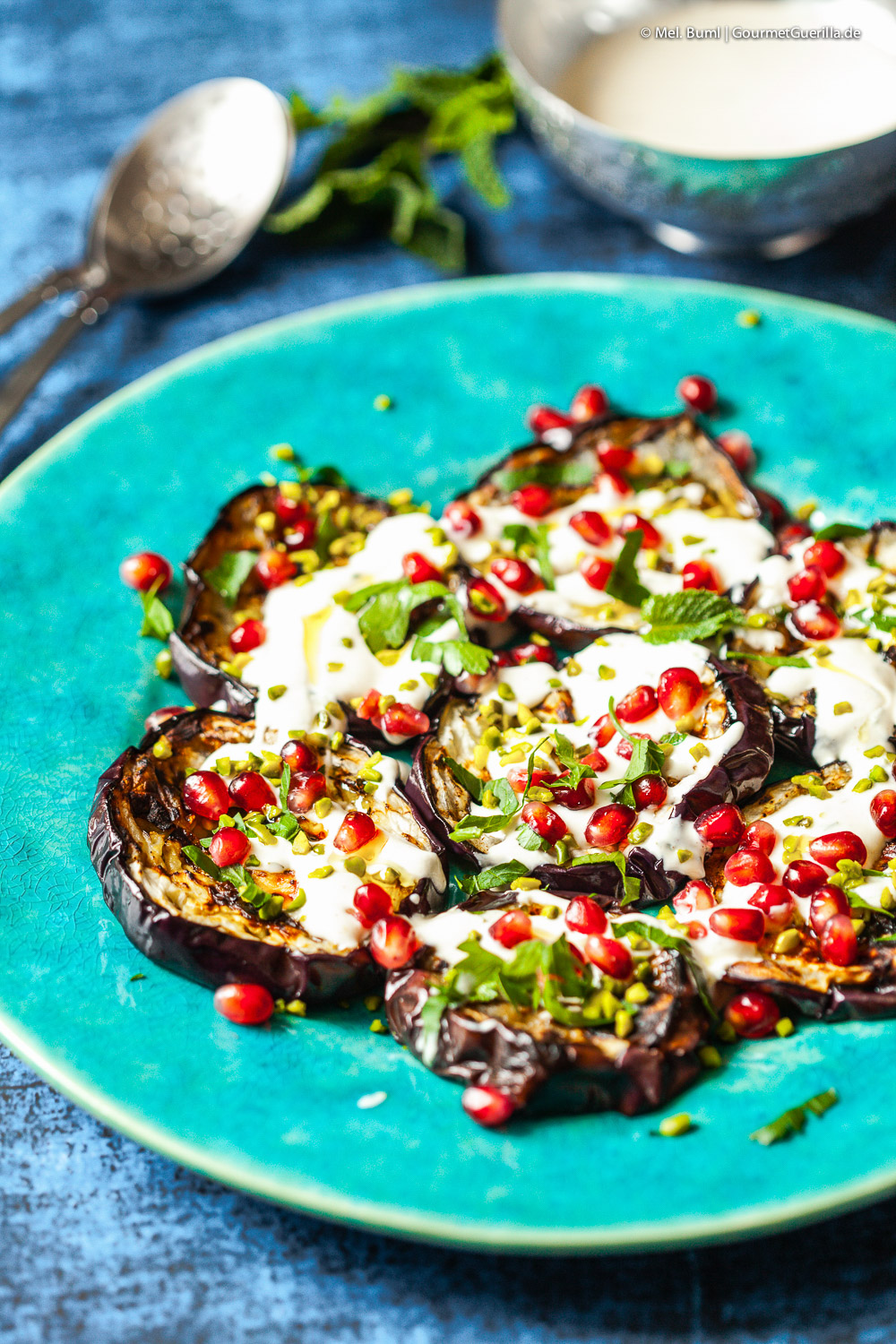 And here comes the recipe for grilled aubergines 1001 nights with sesame sauce, pomegranate and pistachios
Ingredients for 4 people:
2 large eggplants
salt and olive oil
150g herb quark
1 tbsp tahini (sesame paste)
1 pinch of ground cumin with 1 pinch of cinnamon and 2 tbsp of orange juice
3 tbsp of milk and 1 pinch of salt
½ pomegranate or 4 tbsp pomegranate seeds
2 tbsp chopped pistachios
2 tbsp smooth pete rsilie, chopped
And this is how it works:
Cut the aubergines into 2 cm thick slices , salt and cover on a plate covered with cling film for 1 hour in the fridge.(Caution! The pomegranate juice colors very strong - untreated wood and clothing must be covered well.)
Arrange the aubergine slices on a large platter. Spread the sauce over and sprinkle with pomegranate seeds, pistachios and parsley. Drizzle to taste with a little olive oil and serve.
Tips:
The grilled aubergines taste warm fresh from the grill or even cold. Covered with cling film, leftovers are kept in the fridge overnight.